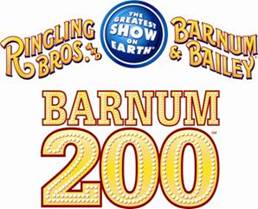 The circus is coming to town!  If you're in the Houston area, you have the opportunity to see the Ringling Bros. Animal Walk, which marks the arrival of BARNUM 200, a super-sized spectacle that features 130 performers from six continents, almost 100,000 pounds of performing pachyderms, cowboys, pirates, and mermaids.
As the animals make their way to Reliant Stadium, everyone in Houston will have a chance to experience this event up close.  Featured in the Ringling Bros. Animal Walk will be the pachyderm performers – including Asian elephants born at the Ringling Bros. and Barnum & Bailey Center for Elephant Conservation®, a 200-acre facility dedicated to the reproduction, research and retirement of the endangered Asian elephant.
The Ringling Bros. Animal Walk will begin at the Union Pacific train track siding located near the intersection of Holly Hall Street and Almeda Road, 1 mile east of Reliant Park and will continue to Reliant Stadium, entering Reliant Park through the Holly Hall entrance gate on the Fannin (east) side of the park property.  Start time is scheduled for today (7/5) at 9 p.m., but due to unpredictable train schedules, this time is subject to change.  This would be a fun experience for your kids if you aren't able to see the actual circus or a time to get them excited if you are planning to see the circus!
The circus will be in town July 7th-July 24th.  For tickets or more information, visit their site here.
*This post may contain affiliate links. Please refer to my disclosure policy for more information