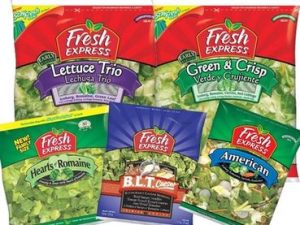 WOW!  I was going in to print off coupons for my shopping trips today and I was surprised to see a new printable here for $.50/1 Fresh Express Blends or Tender Leaves! I found this under zip code 77041 when sorting by "Foods."  Remember that you can print two per computer! I'm guessing this one won't last long!  Hurry and print it before it's gone!
The Fresh Express salad mixes are on sale for $2.99 this week at Target and they're BOGO free, too, so you can get two bags for just $1.99 total!
Here's the breakdown on this deal:
Buy 2 Fresh Express salad mixes – $2.99/each
-$2.99 (store promotion)
-$1 (two $.50 printable coupons)
Spend $1.99 OOP ($.99/each!)
Don't forget you can get your salad dressing for just $.44 after coupons at Target, too:
Kraft dressing (16 oz) – $1.69-$2.09
$1/2 Kraft salad dressing Target printable
$1.50/2 Kraft dressing – 5-15 RP
Final Price = as low as $.44/each when you buy 2!
The dressing was already on my Target list, but now I'll be adding the salad mixes, too!
*This post may contain affiliate links. Please refer to my disclosure policy for more information