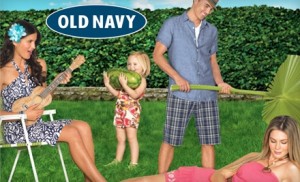 If you missed out on this HOT Old Navy Groupon when it was posted before, it's BACK.  And even if you did grab the deal before, you can get it AGAIN!  If you ? Old Navy, you'll LOVE this deal!  Right now, Groupon has a deal where you can get a $20 Old Navy gift card for just $10!
Here's the breakdown on how you can make the most of this deal:
1.  If you don't have a Groupon account, create one here
2.  Log into your Swagbucks account here (If you don't have a Swagbucks account yet, what are you waiting for?  It's a great way to earn free gift cards!  You can create your account here)
3.  Click on the "Daily Deals" tab on the left.  Then, click on one of the Groupon tabs.  It's OK if the Old Navy deal isn't listed for your area – you'll still get 160 Swagbucks as long as you click through a Groupon link!
4.  If the deal does not show up automatically for your area, click on this link here.
5.  Click on the green "Buy" button and check-out!
Here's the "fine print" on this deal"
-Limit 1 per person
-Valid in stores only
-Valid on purchases of $20 or more in stores only
(Thanks Enza's Bargains!!)
*This post may contain affiliate links. Please refer to my disclosure policy for more information