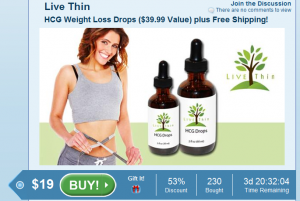 The HCG diet seems to be the latest "craze" and I have to admit that after hearing all the success stories, I'm tempted to try it myself!  Savemore has HCG weight loss drops back today!  If you've been wondering what all the hype is about and want to check out the HGC diet yourself, Savemore has the HCG weight loss drops for just $19 today, BUT if you're NEW to Savemore, you can grab them for just $9!
Here's how this works:
If you're NEW to SaveMore, sign up here and you'll get a $10 credit just for signing up!  Redeem your credit to "buy" the HCG weight loss drops, which are priced at $19, so you'll only have to pay $9 out of pocket!  Plus, shipping on this item is FREE!
If you've already signed up for SaveMore, you'll pay just $19 for this, and it's a $39.99 value! (and even that is a great price compared to other prices I've seen!)
Click here to grab this deal:  HCG weight loss drops  
NOTE:  I have ordered many different offers from Savemore including a teeth whitening pen, nail polish, and canvas prints, so I can assure you that they are a "legit" company.  When you purchase this offer, you will receive a voucher that you will need to redeem for your HCG weight loss drops at Livethin.net.
*This post may contain affiliate links. Please refer to my disclosure policy for more information