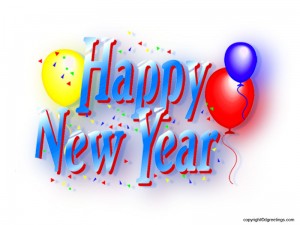 HAPPY NEW YEAR!
 One of the things that I love about a new year is that it's a fresh start and it gives me a chance to reflect on what did and didn't work over the past year. It gives me a chance to at least think about and set goals for the upcoming year even though and even though I may not actually reach all of my goals, I at least have something to work toward  (
I call them goals instead of resolutions because I think resolutions are made to be broken!
)
As we start off this new year, I want to say THANK YOU to all of you!  About a year ago, I was ready to give up on blogging, and I'm so glad I didn't.  2011 was a great year and I am so grateful to all of you out there who thing that what I have to say is worth reading!  When I started my site almost three years ago, my goal was simple – I wanted to share ways to save with my friends and family.  It's all about being able to spend less and still get the things you want and need!  My goal is still the same, but I think that living a frugal life is so much more than just using coupons or getting 100 boxes of pasta for free at the grocery store.  It's being able to pull it all together and so my focus for 2012 is to help you guys do that and to do it myself, too!
In the new year I plan to go "back to my roots" in some areas and add some new features I hope you'll enjoy, too!
Here are some of the things you can look forward to:
Meal Planning:  You can buy 100 boxes of pasta, but if they just sit on a shelf unused, it doesn't do you any good.  I have always completed "meal planning Monday" posts which included my weekly menu as well as recipes and I know that this has been a favorite for many of you.  This will continue along with this following:  What's for Breakfast Sundays, Slow Cooker Mondays, Tasty Treat Tuesdays, Cooking with Kids Thursdays, and from the Freezer Fridays.  I'm also teaming up with some other bloggers to give you a chance to share YOUR favorite recipes and win gift cards, too!
Tip of the Day Tuesday:  If you're just starting to use coupons, these will be basic tips to help you get started!
We're Prepared Wednesday:  In the past ten years of marriage, my husband and I have been through two lay-offs and two hurricanes.  The need to "be prepared" has become important to us, and I plan to share some basics with you, too!
Thrifty Thursday:  My tips for helping you save money!
Freebie Friday: A round-up of the best freebie offers for the week
Super Saver Saturday:  You get to share YOUR savings and you just might win a gift card, too!
On Facebook, we'll start having a "Fan of the Week" and you can enter to win a surprise freebie such as Amazon gift cards, coupons, or more!  We'll also have grocery store match ups, drug store match-ups, features series on ways you can save, crafting posts, and more!
If you've got other ideas for posts or would like to submit a guest post, please contact me at melissasbargains@gmail.com
Happy New Year to you all and let's get ready for a new year filled with savings and more!!