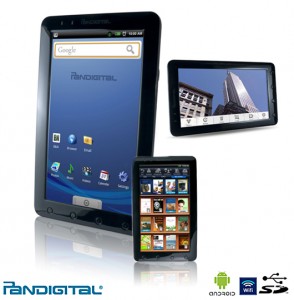 If you're in the market for an eReader, 1SaleADay has a GREAT deal for you!  You can get a Google Android 9″ Tablet PC & Multimedia eReader by Pandigital with Android 2.1 OS for as low as $97.99!  This deal is available TODAY only!
Here's the scoop on what's included:
9″ color touchscreen (400x800p high resolution)
WiFi 802.11 b/g/n
Android 2.1 OS
Samsung ARM 11 Mobile Processor
2GB internal memory
SD/SDHC, MMC/MMC+ card slot (up to 32GB)
Browse the internet, read e-books, view images and video
Instant access to the Barnes & Noble online bookstore
Download Android Apps
E-reader functions: built-in dictionary, word search, adjustable font size, multiple bookmarks, text highlighting
MiniUSB 2.0 port
Headphone jack
Menu, Home, Back, Forward, Volume control and Power buttons
Built in Li-Ion rechargeable battery (AC adapter included)
Supports e-book formats: EPUB, PDF
Supports MP3, AAC, WAV audio
Supports JPEG, BMP, PNG, GIF images
MPEG4 video support
Dimensions: 5.75 W x 9.5 H x 0.5″ D
Windows and Mac compatible
Factory refurbished
Here's how you can make the most of this deal:
1.  To get 2% cash back when you purchase your Google Android 9″ Table PC & Multimedia eReader, click on the blue "Shop Now" button here–>Google Android 9″ Table PC & Multimedia eReader and 2% cash back
2.  When you get to the 1SaleADay site, add the Google Android 9″ Table PC & Multimedia eReader to your cart and complete the process for check-out!
If you are new to ShopAtHome.com, you will receive a $5 cash back bonus after your first purchase in addition to your 2% cash back when you register here–>ShopAtHome.com $5 cash back bonus
Your ShopAtHome.com cash back will be credited to your account within 30 days.
*This post may contain affiliate links. Please refer to my disclosure policy for more information