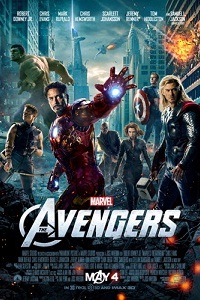 My son LOVES super heroes and for months now, every time a preview for The Avengers would come on, he would get so excited and say, "MOM! I want to see that!" We're going to see a screening next week, and we can't wait! If you're anxiously awaiting the release of Marvel's The Avengers, too, I hope you're excited about this awesome prize pack that I have to give away!
Marvel Studios presents "Marvel's The Avengers"—the Super Hero team up of a lifetime, featuring iconic Marvel Super Heroes Iron Man, The Incredible Hulk, Thor, Captain America, Hawkeye and Black Widow. When an unexpected enemy emerges that threatens global safety and security, Nick Fury, Director of the international peacekeeping agency known as S.H.I.E.L.D., finds himself in need of a team to pull the world back from the brink of disaster. Spanning the globe, a daring recruitment effort begins.

Starring Robert Downey Jr., Chris Evans, Mark Ruffalo, Chris Hemsworth, Scarlett Johansson, Jeremy Renner and Tom Hiddleston, with Stellan Skarsgård and Samuel L. Jackson, and written and directed by Joss Whedon, "Marvel's The Avengers" is based on the ever-popular Marvel comic book series "The Avengers," first published in 1963 and a comics institution ever since. Prepare yourself for an exciting event movie, packed with action and spectacular special effects!
You can check out the trailer here: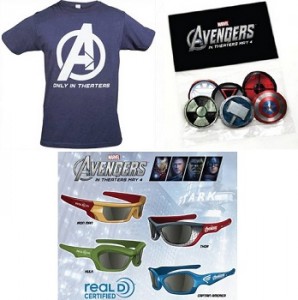 You can enter to win the giveaway here–>Marvel's The Avengers Prize Pack Giveaway entry form
Here is what's included in the giveaway:
– MARVEL'S THE AVENGERS t-shirt in adult sizes of S, M, L, XL
– MARVEL'S THE AVENGERS set of 6 buttons
– MARVEL'S THE AVENGERS one pair of limited edition 3D glasses
This giveaway begins on Thursday, 4/26/2012 and ends at 11:59 p.m. ET on Friday, 5/11/12. Limit of one entry per method per individual. Multiple entries will result in disqualification. The winner will be chosen using Random.org and will be notified via e-mail by 5/12/2012. If the winner does not respond within 48 hours, a new winner will be chosen. You must be 18 or older to enter to win and this giveaway is available to residents of the US only. Void where prohibited. This giveaway is not sponsored or endorsed by Twitter or Facebook in any way. This prize pack is being provided and shipped by Marvel. I was not compensated in any way for this giveaway, but I will be attending The Avengers screening next week.