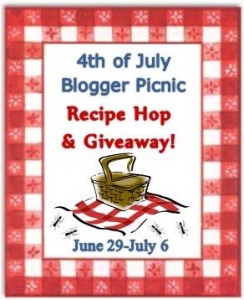 I love 4th of July and all of the yummy food is one of my favorite things about the 4th of July!  To celebrate 4th of July, I've teamed up with some other awesome bloggers to bring you this 4th of July Blogger Picnic Recipe Hop and Giveaway!  It starts today, 6/29/12 at 10 a.m. EST and ends on 7/6 at midnight EST.
Please check out all of our yummy recipes!  Here's some that I've been making for 4th of July every year for about 3 years now!  I got this recipe from my friend Marci's baby shower.  It's easy to make and we absolutely LOVE it!
Chicken Spinach Bow Tie Pasta Salad
Ingredients:
Baby spinach (I usually use one small bag)
Grilled chicken (2-3 pieces, diced)
Bow tie pasta (I use 1/2 to one full 16 oz box depending on how much I'm making)
Pesto (I'm a cheater and buy pre-made)
Feta cheese
Toffee glazed almond accents
Diced tomatoes
Create the dressing by mixing equal parts of Italian dressing and Caesar dressing.  I have used low fat versions of both and it still tastes great!  Once you've made the dressing, mix everything together and serve.
If you're participating in the giveaway, here is my scavenger hunt piece: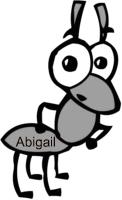 Click here to enter the giveaway–> $60 Amazon gift card entry form
Check out our recipes here: