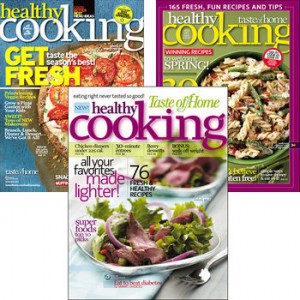 Today Tanga's Daily Deal is a one year subscription to Taste of Home's Healthy Cooking Magazine for just $6.99 per year!  I'm always looking for new cooking inspiration and this magazine includes 75+ recipes including 30 minute meals and lightened "makeovers."  There are seven issues per subscription and you can purchase up to four years at this price!  It sounds great and I can't wait to check it out!  Plus, it comes from Taste of Home and I've yet to have a bad experience with one of their magazines!
To take advantage of this offer, go here and click the red "Buy" button and enter the code "COOKING" at check-out.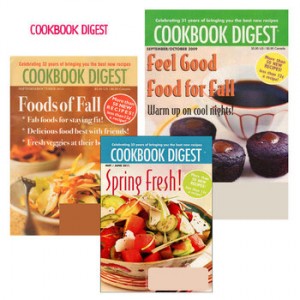 Today only, you can also get a one year subscription to Cookbook Digest for just $8.99.  This magazine contains excerpts from cookbooks covering recipes, photos, and text on such subjects as seasonal foods, entertaining, new cooking equipment use, regional American and foreign cuisine's.  Each subscription comes with 4 issues per year and you can purchase up to a 3-year subscription at this price.  To receive the discounted rate, click here and enter the code COOKBOOK at check-out.
Keep in mind that this is a limited time promotion and that prices may go up at any time!  Please allow 10-14 weeks for delivery of your first issue.  I have ordered from Tanga MANY times before and I have always gotten my magazines.
*This post may contain affiliate links. Please refer to my disclosure policy for more information.