Tanga has a GREAT daily deal today!  You can get a one year subscription to ESPN magazine for just $3.99! If you do not see this price automatically, enter the promotional code ESPN.  ESPN is the sports lover's magazine with an edge, offering color photos, easy to read articles, in depth interviews, stats, game coverage, and more!  You can buy up to a 2 year subscription and you will receive 26 issues per year.
Go here and click on "ESPN"  Then, click on the red "Buy" button and enter the code "ESPN".  You can make payment using Paypal or any major credit card.
NOTE: As more people take advantage of this deal, the subscription price may go up.  Please allow 8-14 weeks for your first issue to arrive.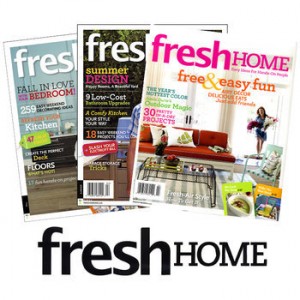 You can also get a one year subscription to Fresh Home Magazine for just $3.50.  Fresh Home is a quarterly publication catering to the DIY or "design-it-yourself" enthusiast. Each issue features resourceful and easy decorating tips that encourage you to look at the home as a way to reflect your own personal style and identity. You'll find unique design ideas and instructions on how to transform a room in a few simple steps, along with fun and easy weekend projects. With essential organizational tips, inspirational photos and great reader-to-reader stories of renovation, Fresh Home is the realist's guide to gorgeous home décor.
Go here and click on Fresh Home and then the red "Buy" button.  Be sure you enter the code HOME to get your discount.
*This post may contain affiliate links. Please refer to my disclosure policy for more information