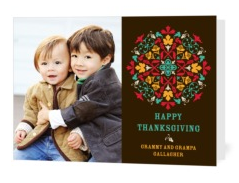 I really have good intentions when it comes to sending cards and gifts, but sometimes life gets in the way and I often find that a holiday or important occasion comes and goes and I've forgotten to send the card!  Today only, you can make a FREE Thanksgiving Day card on Tiny Prints and they will even send it for you for just $.44!   I LOVE it!  For once something will arrive on time!
Click here to make your free Thanksgiving day card (there are 33 different prints to choose from and you can personalize some with pictures!)–>FREE Tiny Prints Thanksgiving Day card offer
When you are done creating your card, make sure you enter the code FREETHX11.  You can choose to have the card sent to you for free or you can mail it to your recipient for just $.44!
This offer expires at 11:59 pm PDT today! (11/16).  I would hurry and take advantage of this offer, though.  The last time it was available, it ended early.

Which card did you pick?
*This post may contain affiliate links. Please refer to my disclosure policy for more information