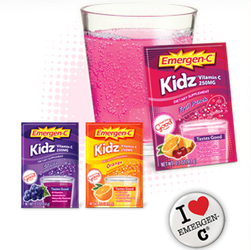 Are you ready for another freebie round-up?  After all the shopping you've been doing lately, it probably feels good to hear the word FREE!  I love getting  freebies!  If you haven't signed up for Woman Freebies yet, you're missing out on great FREEBIES delivered straight to your mailbox!  Today, I had offers for a  FREE smoothie from Smoothie King and details on how to get a free sample of Emergen-C Kids!  I love getting a heads up on all these great freebies!
Make sure you're also entered to win the iPad 2 from Woman Freebies!  Details on how you can win are here–>Win an iPad 2 from Woman Freebies
Here's how you can grab these freebies for yourself:
1. Sign up for a Woman Freebies account here (all they need is your first name and e-mailaddress!)–> Woman Freebies account registration
2. Once you are signed up, click on the links below to grab your free offer!
Free Smoothie from Smoothie King
Keep in mind that some freebie offers come and go VERY quickly.
Don't worry – I've been signed up with Woman Freebies for awhile now and I don't get any spam.  I just get great offers a few times each week! 
*This post may contain affiliate links. Please refer to my disclosure policy for more information