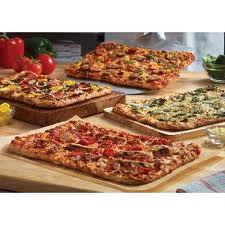 Beginning Monday (4/9) through Thursday (4/12), you may be able to score FREE Artisan pizza from Domino's!  They will be giving away free pizzas while supplies last!
Make sure you "like" Domino's here on Facebook so you're ready to win–>Domino's Pizza
Once the giveaway is live, you can grab your free pizza here–>Domino's Free Artisa Pizza
Here's the breakdown of free pizzas that will be available each day:
Monday, 25,000;
Tuesday, 20,000
Wednesday, 15,000
Thursday, 15,000
Here are some "fine print" details:
You will have the option to order the free pizza immediately or to request your free Artisan pizza at a later date. If you would prefer to order your free Artisan pizza at a later date, you will get an email that will provide instructions on how to redeem your free Artisan pizza. The free Artisan pizza offer is valid for carryout only and is valid at participating stores only. You must redeem on www.dominos.com by 4/18/2012.  Limit one per person.
Let me know if you get one!!  What kind did you choose?
*This post may contain affiliate links. Please refer to my disclosure policy for more information