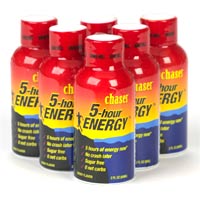 If you have a hard time getting going in the mornings or you experience that mid-day crash, grab a free 5 Hour Energy drink sample.  These used to be a "freebie" after rewards deal at CVS and Walgreens pretty regularly a few years ago and my husband said he liked them because he didn't have the crash afterward like you do with so many other energy drinks.
Hurry and grab your free sample here–>5 Hour Energy drink sample 
If you've tried these, let us know what you think!
*This post may contain affiliate links. Please refer to my disclosure policy for more information