Looking for some free family fun this weekend?  Here is a round up of free activities and events.
Here are the rest of the free weekend events: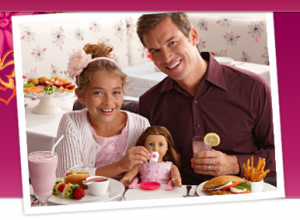 ACE Hardware – Saturday, August 3rd, FREE Quart of Clark+Kensington Paint, while supplies last.  Print your coupon here.
American Girl – Saige's Art Event with Crayola® Model Magic. Let creativity take flight! In her stories, Saige loves to ride in her father's hot-air balloon. During this free art event, your girl can create a mini hot-air balloon sculpture using Crayola® Model Magic. Free and open to the public. For girls ages 8 and up.
-Saige's Scavenger Hunt. Learn about Saige, our newest Girl of the Year! Your girl will go on a fun-filled scavenger hunt, collecting fun facts about Saige along the way. Plus, she'll get a free American Girl poster at the end! Free and open to the public. For girls ages 8 and up.
Apple Stores – Check your local store for weekly workshops and youth programs
Bank of America's Museums on Us – Saturday, August 3rd and Sunday, August 4th (and the first full weekend of every month), Bank of America and Merrill Lynch cardholders can get free access to more than 150 participating museums in 91 cities.  Photo ID and a valid Bank of America/Merrill Lynch credit or debit card must be presented at the time of visit. One free general admission limited to each cardholder at a participating institution, excluding fundraising events, special exhibitions and ticketed shows the first full weekend (Saturday and Sunday) of each month.  Here is a link to the full list of participating museums .
Disney Store – Summer Play Days at Disney Store. Receive a Mickey Mouse keychain when you attend 5 events! Receive a Mickey Mouse watch when you attend 10 events! Events take place every day from July 2 – September 2. See a Cast Member to find out what times the events will be offered.
Jo-Ann Fabric & Craft Stores – Free demos every Saturday, check your store here for more details.
Lakeshore Learning – Saturday, August 3rd from 11-3 pm, kids can make a Ring Toss Game
Lowes Build and Grow – There is not a class this week.  The next class will be on Saturday, August 10th at 10:00 a.m. and Sunday, August 11th at 2:00 p.m., where your kids can build Dusty from the new Disney Planes movie.  A free apron, goggles and patch are included with this FREE class.  Register for this class as well as other future classes here.
Michael's Crafts – Check back next week for FREE classes for the whole family.
Microsoft Stores – Check your local store for classes and special events for the whole family.
Pottery Barn Kids -Tuesday's from 11-11:30 a.m., Story Time.
Sam's Club Open House – No membership required at Sam's Club Friday, August 2nd through Sunday, August 4th.  Here are the details.
Target – select a city to find free or reduced-price admission to arts and cultural events in your area, sponsored by Target.
The Home Depot -Saturday, August 3rd from 9 a.m. – 12 p.m., kids can build Home Depot Load 'n Go Truck.  All kids get to keep their craft and receive a FREE Kids Workshop Apron, commemorative pin and certificate of achievement
– See Adult Weekly workshops here. (Landscape Design, Lawn Maintenance, Install Vinyl Flooring)
Walmart Event Finder – enter your zip code to see what is going on in your area.