Kellogg's has a fun freebie offer available right now!  You can get a FREE trick or treat bag with the purchase of 2 cereals!  All you have to do is download the form online and submit your UPCs!
Click here for the details–> FREE Trick or Treat bag from Kellogg's
Make sure you're in the loop for all of the great offers from Kellogg's by signing up for their Kellogg's Family Rewards program!  You'll get the heads up on exclusive coupons and promotional offers like this one and it's completely free!  You can sign up here–> Kellogg's Family Rewards
You can also make your own bag: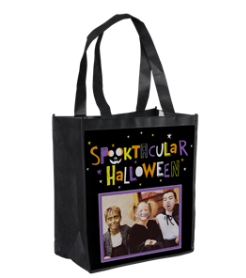 Make your own custom trick or treat bag from InkGarden for just $1!  Shipping and handling is just $3.99, so you'll pay $4.99 total!  They have several styles to choose from!
Create yours here–> Custom trick or treat bag for $1
Vistaprint is also offering Halloween treat bags for just $2 right now.  There are lots of cute Halloween-themed images to choose from!  I used to buy those plastic pumpkins every year and then we couldn't find a place to store them or they would get broken.  I bought these for my kids last year and I love that they fold up easily and we have them again to re-use this year!
Here's the one I made for my son last year:
I was really pleased with the quality – it's definitely something that will last for awhile.
Just a note that you do have to pay shipping and handling, which is $5.52 for most bags.
*This post may contain affiliate links. Please refer to my disclosure policy for more information