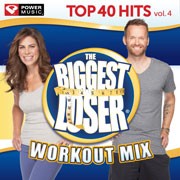 If your goal is to work out more in the new year, grab this freebie!  Get The Biggest Loser Workout Mix: Top 40 Hits Volume 4 for FREE!  I don't know how long this freebie offer will be available, so grab it while you can!
Click here to grab your freebie–> FREE The Biggest Loser Workout Mix
Enter the code FREEBL4 at check-out to get your freebie!  You can add these songs to your iTunes account or you can download them as a .zip file!
Here's what my cart looked like after adding the promotional code: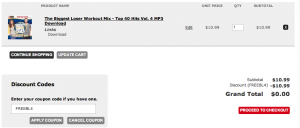 Here are some of the songs that are included:
Hey Soul Sister (HumanJive Remix)
Half of My Heart (CPR Remix)
Cooler Than Me (CPR Remix)
If We Ever Meet Again (CPR Remix)
Wavin' Flag (Ronnie Maze Mix)
Dynamite (CPR Remix)
Undo It (CPR Remix)
Ridin' Solo (HumanJive Remix)
I Like It (CPR Remix)
Young Forever (CPR Remix)
Somebody To Love (HumanJive Remix)
Alejandro (HumanJive Remix)
California Gurls (HumanJive Remix)
See all my current freebie posts here–> Freebies 
(Thanks Centsless Deals!)
*This post may contain affiliate links. Please refer to my disclosure policy for more information.