If you have a CVS store in your area, you may be able to score FREE Puffs Tissues this week!  Cold and flu season is just around the corner (sorry to be the bearer of bad news), so this is a must have in your stockpile!
FREE Puffs Tissues at CVS
Here's how you can grab this deal: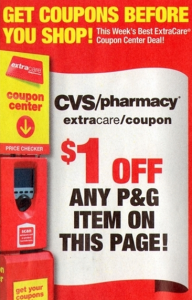 1.  Scan your CVS card at the red machine in your CVS store.  You should receive a CVS coupon for $1 off any P&G item featured in the ad.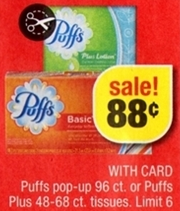 2.  The Puffs tissues are one of the featured items and they're on sale for $.88!  This makes one box FREE with the coupon (CVS does not give overage).  They should adjust the coupon amount down to $.88 if you are buying one box.
3.  If you want to buy multiple boxes and you have the $.25/3 Puffs facial tissues coupon from the 9-1 PG insert, you can also do this:
Buy 3 Puffs Facial Tissues (48-96ct) –  $.88
$1/1 P&G Item CVS coupon
$.25/3 Puffs Facial Tissues – 9-1 PG insert
Final Price = $1.39 for 3 boxes ($.46 per box!)
See more printable coupons here–> Printable coupons
See more CVS deals here–> CVS Deals
(Thanks Coupon Clippin' Daddy!)