Free Prescription Glasses from Coastal
Just an update – today is the LAST DAY you will be able to take advantage of this promotion!!!
Need glasses? You can get FREE Prescription Glasses from Coastal.com! I normally wear contacts, but I do have glasses to wear in the evenings and I have had to wear them a few times when I've gotten eye infections. My insurance only covers contacts or glasses at my yearly visits so I always opt for the contacts and I realized the other day that I hadn't gotten new glasses in 8 years, so it's definitely time! I got a copy of my prescription at my last visit and I've heard great things about the free glasses from Coastal Contacts from friends who have tried them out, so I decided to check them out myself! I love that I can try them for free! I'm thinking I'll also get an extra pair for my daughter to have because I think it's only a matter of time before she breaks or loses hers (hope I'm not jinxing myself by saying that).
Click here to request your free pair–> FREE Prescription Glasses from Coastal.com
You will need to enter the code FIRSTPAIRFREE at check-out to get this deal! Anti-reflective, UV protective, and scratch resistant coatings are included in this offer. They also included a free case! You will be able to return your glasses at their expense if you don't like them!
Here's what Lisa what to say about the glasses she received:

I have gotten a pair for my daughter and they were AWESOME…$16 didn't break the bank for a kid's glasses either!
Here's an example of what you'll receive:  it comes with a case, cleaning cloth, and cleaning supplies!
NOTE: Shipping and handling fees do apply, but are minimal (usually ranging from $5-20 depending on what you pick). This offer is valid for first time customers only.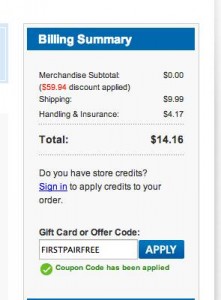 See all my current freebie posts here–> Freebies
*This post may contain affiliate links. Please refer to my disclosure policy for more information