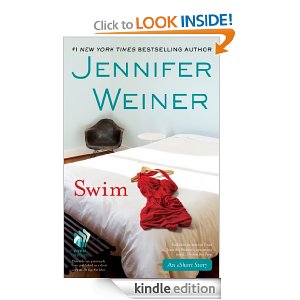 If you love "chick lit" and Jennifer Weiner books, you can grab Swim, which is a short story prequel to The Next Best Thing, her latest book, which was just released on July 3rd!  If you're not familiar with Jennifer Weiner, some of her other titles include In Her Shoes, The Guy Not Take, and Little Earthquakes.  I've read all of her books but the latest two and have loved them all!
Ruth has left her job writing for a hit television show for reasons she'd rather not discuss and is supplementing her increasingly dwindling savings with freelance writing projects—namely, helping anxious high school students craft a perfect college essay and lonely souls craft captivating online dating profiles. When she's not working, she's swimming—lap after lap at the local indoor pool, in a desperate attempt to wash away the sting of professional failure and heartbreak that she can't seem to shake. It takes an unexpected client to show her that appearances can be deceiving, and that sometimes the bravest thing you can do is simply dive back in.
Click here to grab this freebie for yourself–> FREE Kindle Download:  Swim by Jennifer Weiner
If you want to grab her latest book, you can grab that here–> The Next Best Thing by Jennifer Weiner (sadly this one is not free!)
Find more free Kindle downloads here–>Free Kindle downloads
If you don't have a Kindle yet, you can still read for free on your PC, Smartphone, or tablet with these freeKindle reading apps here–>FREE Kindle reading apps 
NOTE: This book was free at the time of this posting.  Pricing on Amazon can chance at any time. Please verify final pricing before downloading this item.
*This post may contain affiliate links. Please refer to my disclosure policy for more information