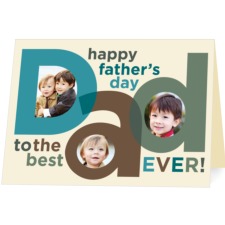 Father's Day will be here before you know it and to celebrate, Treat is offering a FREE personalized card for Father's Day!  Personalize your card by adding photos and more and you can even choose to have them send your card for you!  I LOVE being able to create personalized photo cards.  I always have the best of intentions, but have a hard time remembering to mail out cards in time.  This is perfect for me!  They've got hundreds of different designs to choose from, too!  I'm having a hard time picking just one!

Click here to start creating your card–>Free Father's Day card offer from Treat
Use the following codes at check-out:
NOTE:  You will be charged an additional $.44 per card if you choose to have Treat ship your card for you.  Limit one per household. Customers will also be asked for their credit card to verify identity and prohibit fraud, but you will not be charged for a free card if they mail it to themselves.
*This post may contain affiliate links. Please refer to my disclosure policy for more