Right now, you can get a FREE Child Safety ID Kit from Gerber when you request your free, no obligation quote for the Gerber Life's Grow Up Plan! My mom's parents got this for her when she was a kid and she still has that coverage today! To request your free quote and free child safety ID kit, just click on the banner above and complete the first two pages!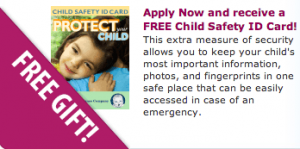 Your free Child Safety ID Kit allows you to keep all of your important information about your child in one spot so it can be easily accessed if needed. A Gerber life insurance plan will help you with expenses in the event of an unthinkable event or can serve as a nest egg for your child later in life. The best part is that the cost of your premiums will not increase! Even though it's painful to imagine anything happening to them, I have life insurance plans for each of my children because I think it's important to be prepared. The cost for both of my children for $10,000 in coverage is just $14.18 per month.
See all my current freebie posts here–> Freebies
*This post may contain affiliate links. Please refer to my disclosure policy for more information.