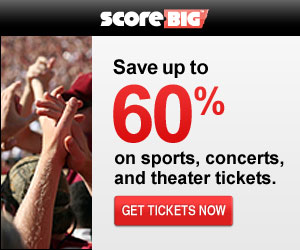 If you enjoy sporting events, the theater, or concerts, make sure you check out
ScoreBig!
You can save up to 60% off the regular price on tickets to the most popular events in your city and right now you can get a 
FREE $10 credit 
just for signing up for their newsletters, which means you could possibly score 
FREE tickets!  
1.  Click here to register and get your $10 credit–> $10 credit from ScoreBig
2.  Search for events in your city
3.  Make an offer!
You don't have to pay shipping and handling fees and all tickets are guaranteed!