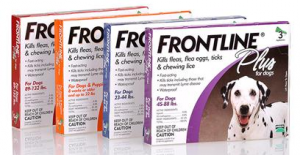 Due to the dry, hot summer in Texas this year, the ticks and fleas were out in full force!  Our vet told us that he had seen record numbers of flea and tick infestations.  We've never had problems with fleas or ticks before, but this summer we found a tick on our dog!  We keep her inside and we have children, too, so we wanted to take care of the problem quickly!  Our vet recommended Frontline Plus for Dogs, which was quick and easy to apply, and we haven't had a problem since!
Even if your pets are kept outside, you still need to be concerned about fleas and ticks because they may carry parasites, such as tapeworms, which can be passed on to your pet.  They may also cause skin infections such as dermatitis and they can also weaken your pet.  Although your pets may be getting the fleas and ticks from your yard, it is more effective to treat them directly than to treat your yard.
To find out more about fleas and ticks and how to check your pet to see if they have fleas or ticks, check out this article here from the Tulsa County OSU Cooperative Extension Center–>Flea and tick control tips for dogs and cats
As a bargain hunter, I wanted to find out how I could get the most "bang for my buck" and so I priced this treatment online and found the best deal at PetCareRX.  Pricing for a three month supply is based on your pet's weight.  The price for my dog was about 50% less than other locations!
Click here to check on the pricing for your pet–>Frontline Plus 
This treatment is dispensed via a single dose applicator that you apply between the dog's shoulder blades.  It is waterproof and lasts for approximately 30 days.  It is safe to use on all dogs 8 weeks or older.  Once applied, it covers the entire dog and acts as a barrier to fleas and ticks.  It kills almost all fleas within 24 hours and also kills eggs and larvae! If your pet has had a flea or tick problem, be sure to ask your pet before choosing a treatment plan!
NOTE:  This is a sponsored post from PetCareRX. Although this is a sponsored post, the opinions contained in this post are my own.