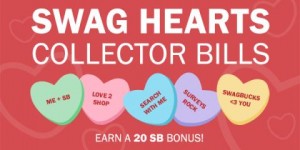 Valentine's Day is right around the corner!  Not everyone is a fan of Valentine's Day, but many people LOVE those small candy hearts!  You know what I'm talking about….those little pastel-colored candy hearts that feel remarkably similar to chalk when they're in your mouth! It's not so much about the taste or feel though.  It's all about the memories they trigger and how they make you feel.
Swagbucks has cooked up a batch of those candy hearts that are sure to make you feel great and they call them Swag Hearts!
Collect all 5 candy heart-themed Collector Bills and you'll earn a 20 SB bonus!  For those of you who are wondering what Collector Bills are, I'm here to explain:
How Do I Get Collector Bills?
It's simple. Search the web through the Swagbucks Search Engine through Friday, February 12th at 11:59pm PT/Saturday, February 13th 2:59am ET, and when you get a search win, you may get a special Collector Bill valued at either:
8 SB

14 SB

25 SB

32 SB

39 SB
What happens when I get a Collector Bill?
When you win a limited edition Collector Bill you'll receive the value of the bill and the bill will be added to your "Collector's Bill" ledger. Collect all 5 bills and you'll instantly earn a 20 SB bonus!
Is it possible to collect the same Collector Bills multiple times?
Yes, you could collect any of the Collector Bills multiple times by February 12th, and you receive the value of the bill each time. After all, who doesn't love candy! 
Pro Tip: Default your search engine on your browser to Swagbucks to get Collectors Bills and SB every time you google "What time is the Super Bowl?" without even thinking about it. 
Swagbucks helps me to pay for a cash Christmas every year!  Find out more about how to make the most of your Swagbucks account here–> Cash Christmas with Swagbucks