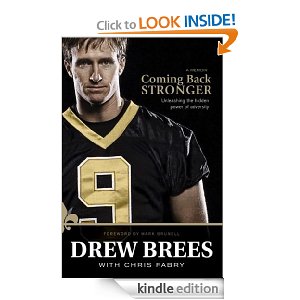 Today's Kindle Freebie is Coming Back Stronger, the story of Drew Brees!  This sounds like an inspirational story and I can't wait to check it out!
When a potentially career-ending shoulder injury left quarterback Drew Brees without a team—and facing the daunting task of having to learn to throw a football all over again—coaches around the NFL wondered, Will he ever come back? After Hurricane Katrina devastated New Orleans, leaving more than 80 percent of the city underwater, many wondered, Will the city ever come back? And with their stadium transformed into a makeshift refugee camp, forcing the Saints to play their entire 2005 season on the road, people questioned, Will the Saints ever come back? It takes a special person to turn adversity into success and despair into hope—yet that is exactly what Super Bowl MVP Drew Brees has done—and with the weight of an entire city on his shoulders. Coming Back Stronger is the ultimate comeback story, not only of one of the NFL's top quarterbacks, but also of a city and a team that many had all but given up on. Brees's inspiring message of hope and encouragement proves that with enough faith, determination, and heart, you can overcome any obstacle life throws your way and not only come back, but come back stronger.
Click here to grab this freebie for yourself–> Drew Brees Coming Back Stronger FREE for Kindle
Don't have a Kindle yet?  Get a Kindle Fire for just $159 shipped!  Click here to get yours–> Kindle Fire for $159 shipped
Find more free Kindle downloads here–> 100 Free Kindle downloads
If you don't have a Kindle yet, you can still read for free on your PC, Smartphone, or tablet with these free Kindle reading apps here–> FREE Kindle reading apps 
NOTE: This book was free at the time of this posting.  Pricing on Amazon can chance at any time. Please verify final pricing before downloading this item.
See more Amazon deals here–> Amazon deals
*This post may contain affiliate links. Please refer to my disclosure policy for more information