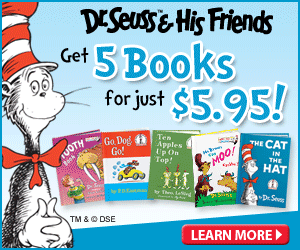 If you're trying to build your home library, this is a great deal! Get a
Dr. Seuss 16 month calendar plus 5 books for just $5.95 shipped!  
I absolutely love the Dr. Seuss books and so do my kids, but they are not cheap.  This is a great deal for 5 books!  Unlike other book clubs, this one has 
no minimum purchase obligations
and you can cancel at any time!  These books are perfect for my son, who is learning to read!
PLUS, you can get Wreck it Ralph and other Disney books for just $.99 each shipped-> Wreck it Ralph for just $.99 each shipped
Here's what you'll get:
The Cat in the Hat, Mr. Brown Can Moo, Ten Apples On Top, Go Dog Go! & The Tooth Book
Free colorful Cat in the Hat tote bag to carry all your books in.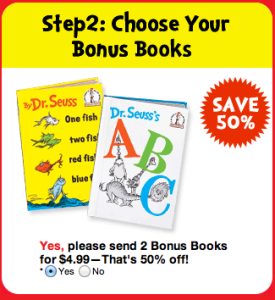 You can also choose to add two additional books to your order for just $4.99!  These books are $8.99 each on Amazon, so it's definitely worth it!  If you don't want to take advantage of this offer, just click the "no" box.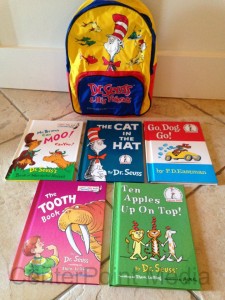 Once you receive your order, you can continue to receive other popular Dr. Seuss titles or you can cancel at any time and there are no additional purchase requirements!
See more online deals here–> Online deals
NOTE:  The backpack pictured above is no longer available, but gives you an idea of what you will receive when you order!  The current promotion includes the 5 books and a free Dr. Seuss wall calendar!
*This post may contain affiliate links. Please refer to my disclosure policy for more information