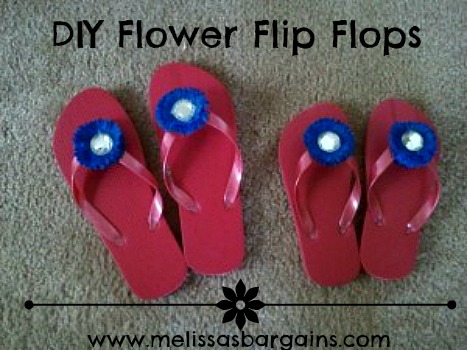 I LOVE, LOVE, LOVE flip flops, and I'm fortunate because in Texas, I can pretty much wear them about nine months out of the year!  My daughter and I made these super cute DIY Flower Flip Flops for 4th of July last year.  It was fun, easy, and best of all CHEAP!
Here's what you need to make them:
Flip flops- you can usually find them for $1 at craft stores or even Old Navy!
Stem flowers – $1.99 on average (prices may vary depending on what you choose)
Jewels – $3.49 on average (prices may vary..I bought a huge bag to use for other craft projects this summer, so I spent a little bit more)
Hot glue gun and glue sticks
Here's how you make them:
Pull the stem and backing off the flowers and hold it together.  Then, use the glue gun to glue the layers together (I didn't do this the first time I attempted this project and it was a mess!)
Glue the jewel to the flower and let the glue dry.
Glue the flower onto the flip flops and let it dry and you're ready to go!
As my kids would say, "easy peasy"  You could also add ribbons, pom poms, bows, and more!
Make sure you grab a Michael's or Hobby Lobby coupon to save even more!