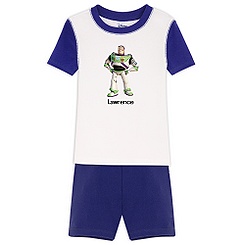 Right now the Disney store has these cute PJ pals (shorts and pants sets) for just $7.99! You also have the option to personalize them!  (Personalization is $3.95 extra)
Here's how to make the most of this deal:
1.  Log into your Shop at Home account here.  You will get 5% cash back when you shop through Shop at Home! If you do not have a Shop at Home account, you can create one here and you will get a $5 bonus!  If you are not familiar with Shop at Home, check out this post here for more information.
2.  Once you are logged into the Shop at Home site, search for Disney Store.  Then, click on the "Shop Now" button and you will be redirected to the Disney Store site.
3.  Once you are at the Disney site, click here to access the discounted PJ pals.
4.  Add items to your cart, and then check-out to complete your order when ready!
My son LOVES Buzz Lightyear, so I think I might have to grab a pair of these for his birthday or maybe to stick in his Easter basket!
*This post may contain affiliate links. Please refer to my disclosure policy for more information