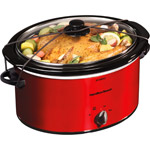 Without my slow cooker, my family would probably not be eating home-cooked meals very often.  I use my slow cooker to cook 3-5 times per week (I actually have 4 different ones in different sizes!)  If you don't have a slow cooker yet, if you need a new one, or if you want a bigger one for soups and roasts, right now Walmart has this Hamilton Beach 5 quart slow cooker for just $19.94!  You can choose to pick it up in your local store for FREE or shipping!
The Hamilton Beach 33155 5-Quart Portable Slow Cooker helps you make hot delicious meals in advance and reduce the stress of cooking dinners in a hurry. This portable slow cooker is easy-to-use and saves your time and energy as it lets you cook flavorful and tasty food without the hassles of the constant attention traditional cooking usually demands. Just plug it in, choose the right settings, put in the ingredients and let it do the work of cooking the food for you. Once cooked, the Keep Warm feature will ensure that the food stays at the optimum temperature until you are ready to eat. Slow cooking has been shown to keep the nutritional value of the food intact as it does not expose the food to high temperatures, which can destroy nutrients.

A slow cooker is a worthwhile addition to any kitchen and the Hamilton Beach Crock Pot is a good model to choose. The Hamilton Beach 33155 slow Cooker comes equipped with a latch strap at the lid and a lid gasket to prevent spillage. This 5-quart slow cooker with its glass lid and stoneware cooking pot are easy to clean and dishwasher safe.
Click here to grab this deal–>Hamilton Beach 5 quart slow cooker for $19.94 
The Hamilton Beach 5 Quart Portable Slow Cooker:
Stoneware and glass lid
Reduce messy spills with Lid Latch strap and gasket lid
Perfect size for a 4.5 lb chicken or two 2 lb roasts
Features a keep warm setting
Dishwasher safe
*This post may contain affiliate links. Please refer to my disclosure policy for more information