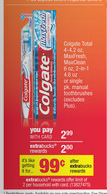 There is a new printable coupons for $.50 off Colgate Optic White toothbrushes.  You may be able to use this coupon with the ECB deal at CVS this week and toothbrushes could be a MONEYMAKER for you!  I can't ever turn down FREE toothbrushes!
Click here to grab this coupon–> $.50 off Colgate Optic White toothbrushes coupon
There is also a coupon for $.75 off Colgate Optic White toothpaste.  If you need toothpaste, I would print this and hang on to it for a sale!!
Make sure you scan your coupon at the "Magic Coupon Machine" (otherwise known as "scanner") at your CVS store.  Many people have reported getting a $4 off 3 Colgate toothbrushes coupon!
If you get this coupon, check out this scenario:
Buy 3 Colgate toothbrushes – $2.99
Use $4/3 Colgate toothbrushes CVS coupon
Use 2 $.50 off Colgate Optic White toothbrushes coupons (if you have access to multiple computers, you can use 3!)
Spend $3.97 OOP, get a $4 ECB
Final Price = $.03 moneymaker after coupons and ECBs!  (if you have three of the Optic White coupons, it will be a $.53 moneymaker!)
(Thanks My Litter!)
*This post may contain affiliate links. Please refer to my disclosure policy for more information.