This is probably your last chance to stock up crayons at rock bottom prices!   This week, they are on sale for just $.25 each at Toys 'R Us!  Stock up now to have them on hand for your kids or keep them to make gifts for teachers later in the year!  From my experience, teachers also ask you to replenish school supplies mid-year, so these would be great to have on hand for that!
Here are a few teacher gift ideas you can make using crayons that will come in handy later for the holidays or teacher appreciation week!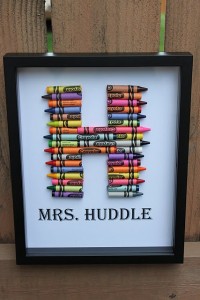 I LOVE these crayon monograms!  I found this picture at BMoore Celebrations.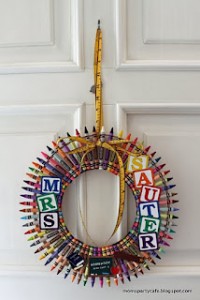 This crayon wreath is super cute, too!  Get the scoop on how to make it here–> Teacher crayon wreath
Remember if your Toys 'R Us store is sold out of these crayons, you can always price match at Walmart or Target!
*This post may contain affiliate links. Please refer to my disclosure policy for more information