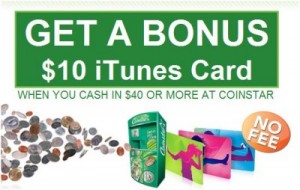 Earlier this year, I posted about starting a change jar to save money.  When you "cash in" your change at a Coinstar machine and you choose a gift card option, there are no fees!  Right now, there is a promotion where you will get a free $10 iTunes gift card when you cash in at least $40!
Here's how to take advantage of this deal:
1.  Take your change (at least $40) to a Coinstar machine (you may want to check online first to make sure that they offer iTunes gift cards as a "cash out" option)
2.  Choose to cash out for an iTunes gift certificate
3.  There will be a $10 promo code at the bottom of your Coinstar receipt.  Enter your code here and your gift card will be mailed to you within 2 weeks!
The offer is available through 5/31/11!
*This post may contain affiliate links. Please refer to my disclosure policy for more information