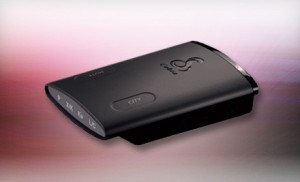 If you're looking for a deal on a radar detector, right now you can grab this Cobra SSR 50 Performance Radar and Laser Detector for just $39 shipped!  This is definitely less than you'd pay for a speeding ticket!
This deal is being offered through Groupon.  If you're new to Groupon, make sure you sign up here first to grab this deal–>Groupon registration
If you're already registered with Groupon, click here to grab this deal–>Cobra SSR 50 Performance Radar and Laser Detector for $39 shipped
The Cobra SSR 50 Performance Radar and Laser Detector warns drivers of speed traps, hazards, and holdups with vibrant, LED alerts. The device detects a variety of systems including radar guns (including all X, K, and Ka bands), laser guns, and the Safety Alert transmitters of emergency vehicles. Audible signal-strength levels keep users informed of their relative proximity to other radar devices, and dedicated operation modes for city and highway help drivers filter out frequencies in densely populated urban areas or demolition derbies. 
Bright LED display
Touch sensor buttons
Front and rear laser detection
Detects radar frequencies and laser signals currently used in the U.S., Canada, and select UFOs
Here are some of the "Fine print" details:
Limit 1/person.
May buy 2 addtional as gifts.
Limit 1 Groupon/order. Redemption code expires 12/29/11. If not redeemed by then, Groupon will refund amount paid in Groupon credit or original form of payment, as requested. Online only. Shipping included.
Ships within contiguous U.S. only. No shipping to DC and VA. No shipping to PO boxes. Ships in 7-10 days. redeem by the 14th to guarantee delivery by 12/24.
Registration on cobra.com required to redeem. See additional fine print.
See the rules that apply to all deals.
*This post may contain affiliate links. Please refer to my disclosure policy for more information