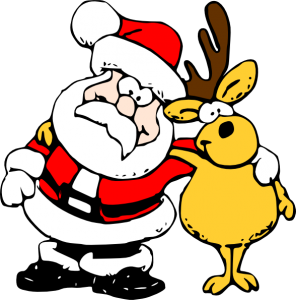 If you want to share some Christmas fun with your kids today, check out the Live Reindeer Cam!  See what Santa's reindeer are up to as they get ready for the big day and watch Santa feed the reindeer Monday-Friday at 11 a.m. and 6 p.m. and 9 p.m. EST and Saturday and Sunday at 6 p.m. EST!  Need that converted to your time zone?  Check it out here–> When does Santa feed the reindeer?
Click here to check out the Live Reindeer Cam with your kids–>Live reindeer cam 
Here's how you can add your kids names to the "nice" list:
1.  Send a letter to Santa:  4593 Wren Dr. SE Caledonia, MI 49316.
2.  Add people to the list by donating to the reindeer fund.
3.  Write us a review in the iOS/Android/Win 8 App Store! Then e-mail us at NiceList@ReindeerCam.com with the names you would like to add. Please include your User Name in the Subject Line.
Here's another fun activity you can do with your kids after watching Santa feed the reindeer!  Make magic reindeer food!  Find out how here–> Magic reindeer food