I'm loving all of the coupons for breakfast foods lately!  As the back to school sales start up soon, we should see some awesome sales on cereal, Pop Tarts, and more!  In the meantime, you can still score some pretty good deals!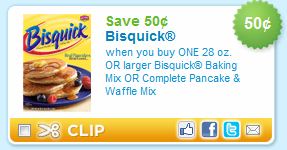 Right now, there's a $.50/1 Bisquick printable coupon here. If you are looking for some "breakfast inspiration" because you're tired of the same old stuff every morning, check out this recipe for Puffed Pancakes.  I love this recipe because it's easy to throw together and you can just stick it in the oven while you do other things rather than sitting there and having to watch it like you do when you're making regular pancakes!  My kids love it, too!  If you need more meal planning inspiration, check out Marci's "On My Menu" blog!
Ingredients:
1/2 cube butter (not margarine)
6 eggs
1 cup Milk
1 Cup Pancake Mix (or Bisquick)
Directions:
Preheat oven to 425 Degrees. Place butter in a 9 X 13 inch pan. Put in preheating oven until butter is melted. In a blender, combine eggs, milk and pancake mix. Pour batter into baking dish. Bake for a bout 15 – 18 Minutes until pancakes are puffy and lightly browned. Do not open oven while pancakes are cooking. Top with sifted powder sugar.
Serve with warm maple syrup or fruit toppings.
Here are some more hot breakfast printables you'll want to grab before they're gone:
Pop Tarts (12 ct) are on price cut at Target through 7/16 for just $2.65.  Here's the breakdown on that deal: coupons are linked when you click on them below!
Buy 3 Pop Tarts – 12 ct – $2.65/each
Use $2/3 Kellogg's Pop Tarts printable
Use $1/3 Target Pop Tarts printable
Final Price = $4.95 OOP ($1.65/box!) for 36 Pop Tarts!
Here are the rest of the breakfast coupons: I found all of these under the zip code 77041
$.55/1 Bagel-fuls
$.75/1 Cocoa Puffs Brownie Crunch
$.75/1 Cookie Crisp cereal
$.75/1 Fiber One 80 calories cereal
$.50/1 Honey Nut Cheerios cereal
$.50/2 Pillsbury Toaster Strudel
$.75/1 YoGreek Yogurt + Crunch
$1/3 Voskos Green & YoGreek Yogurt
$.40/6 Yoplait yogurt cups
(Thanks Totally Target for the heads up on the Pop Tarts deal!)
*This post may contain affiliate links. Please refer to my disclosure policy for more information