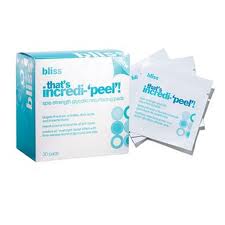 I admit it.  I've never been much of a "girly girl."  Growing up, there were mainly boys in my neighborhood so instead of Barbies, I played with GI Joe, Transformers, and Star Wars figures.  When it comes to a skin care regiment, I like to keep it as simple as possible!  The bliss That's Incredi-Peel totally fits the mark!  Sadly, when I hit my mid-30s, I noticed!  Lines and spots that had never been there before suddenly started appearing.  The bliss That's Incredi-Peel gives you the benefits of a "peel" from the comfort of your own home!
This was my first time using a product like this and so I didn't know what to expect!  The concept is super simple!  You wash your face at night and then wipe the Incredi-Peel pad over your clean, dry skin.    The instructions suggest that you use the pads every other night and then build up to nightly use, so that is what I have been doing.  After using the Incredi-Peel for only a week, I am already noticing a difference in my skin!  It's so much softer and those lines that were beginning to appear are not as noticeable!  I've always had sensitive skin, so I was worried that it might irritate my skin, but I've had no problems at all!  This product is great, too, because each pad is individually wrapped.  We were on vacation for a week and it was easy to take these along with us!
Here are some of the benefits of the Bliss That's Incredi-Peel:
Targets fine lines, wrinkles, dark spots, and imperfections
Retexturizes and soothes all skin types
Creates an overnight facial effect with time-release technology in just one step
Now for the fun!  In addition to providing me with bliss That's Incredi-Peel to review, bliss has also provided me with a box to give away to one lucky reader!
Click here to enter to win–> bliss That's Incredi-Peel giveaway
You can purchase this product yourself at stores such as Sephora and Ulta or online at Blissworld.  It retails for $49 per box.
NOTE: Make sure you read the product warning labels before using.  It should not be used with products such as Accutane or if you have conditions such as rosacea, excemza or open cuts.
DISCLOSURE:  I was provided with one box of bliss That's Incredi-Peel pads to review and one to give away.  All opinions expressed here are my own.  Please refer to my disclosure policy for additional information.