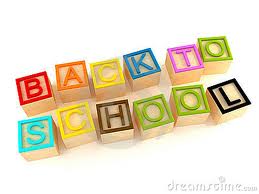 I have always been big on trying to establish traditions with my family. Last weekend I stayed at my sister's house for a night so that she and her husband could get away for the first time in almost six years without kids and I realized that traditions don't have to be "big" They just have to be meaningful to your family! I loved that as soon as her kids woke up Saturday morning they KNEW it was Saturday and that they could eat their breakfast in the family room while watching cartoons!
The summer before my daughter started kindergarten, I read on NieNie Dialogues about her fabulous Back to School feast for her kids. I'm not quite as creative (or ambitious) as she is, but I decided to start this tradition in our house. My kids have been asking me about it for a few days now. We have one of their favorite meals (so far it has been homemade macaroni and cheese four years running now!) and talk about goals, fears and the upcoming year in general.
First Day of School Picture Ideas:  Since my daughter started kindergarten, I've always taken a picture of her holding the date and her grade. My son starts kindergarten this year and I plan to do this again, but then I'm going to save that picture for the end of the school year and I'll take another picture on the last day of school with each kid holding their first day of school picture like this one I found on Call Me Crafty Al!

Letters – Write your child a letter at the start of the school year telling them all the things you love about them, the things you hope they'll learn that year, or the things that they love at that point in time. Save all of the letters and make them into a book for graduation! I am planning on starting this tradition this year! When they head off to college, you can send them with their book of letters and another letter!
Heart Attack – Cover your child's door with hearts telling them all the things you love about them to start their day off right on the first day of school. This is also great for Valentine's Day, birthdays, or just because!
Back to School Fairy – Have the Back to School Fairy visit and bring a new book, a journal, or school supplies!
Back to School Fashion show – I can remember doing this as a kid and now I love to see my kids parade around in their new school clothes while we try to choose a first day of school outfit and outfits for the rest of the week!
Don't forget to add a special "I love you" or "Have a great day" note in their lunch boxes!  That's something else my daughter looks forward to each year!
What are YOUR back to school traditions?
*This post may contain affiliate links. Please refer to my disclosure policy for more information