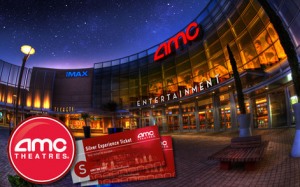 Buy With Me is a daily deals site like Groupon and right now they have a HOT deal:  Get four AMC Silver Experience movie tickets for just $24! I know in my area, tickets are $9.50/each, so this is a savings of $3.50 per ticket!  Whether you're looking for a cheap date night or a fun night out with the family, this deal is definitely worth checking out!  Summer is just around the corner and there are lots of great movies out and coming out, so I'm excited about this deal!
Here's the scoop on how you can take advantage of this deal:
1.  Log into your Buy With Me account here (if you don't have an account yet, you can create one here)
2.  Click on the AMC $24 for 4movie tickets offer (if it doesn't show up for your city, in the upper left hand corner, change your location to "Anywhere USA")
3.  Click on the blue "Buy Now" button, add your payment information, and check out!The tickets should be mailed to you within 10-14 days of the promotion end date.  If you have the $5 credit for signing up for the first time, you should only have to pay $19! (that's just $4.75/each)
I have ordered from Buy With Me several times before (including AMC tickets) and never had any problems!
Here's "the fine print" on this offer:
Limit 1 voucher per person.
Your tickets will be mailed to the address you provide at BWM checkout within 10-14 days of the promotion ending; all shipping and processing fees are included. Tickets will not be shipped until the end of the promotion.
Tickets are valid for any AMC®, but shipping is only available to RI, NH, NJ, NY, CT, MA, DC, VA, TX, WA, CA, AZ, IL, WI, PA, MD, GA.
Once you receive your tickets in the mail, they can be redeemed for admission at any AMC Theatres® location; not valid for online or kiosk purchasing, or reserved seating.
Good at any AMC®, AMC Showplace, Loews®, Cineplex Odeon, Magic Johnson, and Star theatres, excluding Canadian theatres.
Not valid for special engagements.
Valid only for movies that are two weeks out from their original release date.
Extra charges may apply for 3D, IMAX®, ETX, Dine-In theatres, alternative content, and premium services and locations.
Shows and seating subject to availability.
No age restriction to redeem, but movies are subject to MPAA age restrictions, based on MPAA rating.
Movie ticket photocopies are not allowed.
Cannot be combined with other offers or promotions.
AMC Theatres® movie tickets do not expire.
*This post may contain affiliate links. Please refer to my disclosure policy for more information