This post contains affiliate links.  Please refer to my disclosure policy for more information.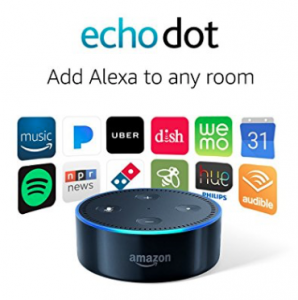 The Amazon Echo Dot is on sale today for $39.99!  If you haven't heard of the Dot, it's basically a smaller version of the Amazon Echo.  I got my kids each one for their birthdays, and they have been a HUGE hit!
Here are some of the features we are loving so far:
It's voice activated – use it to make grocery lists, set alarms, play music, and it can even do things like order pizza for you or turn on your lights!
The "skills" features – you can play trivia games (including Jeapordy!), hear a daily joke, find recipes, and more!
It works as a bluetooth speaker – Use it to play your favorite music from Pandora, Spotify, Amazon Music and more!  My kids like to use it at night to play soothing background noise, too.
Use it as an alarm clock – you don't need an alarm clock because you can tell Alexa when to wake you up!
Click here to check it out for yourself–> Amazon Echo Dot sale
This would be great to put away as a Christmas gift for tweens or teens!