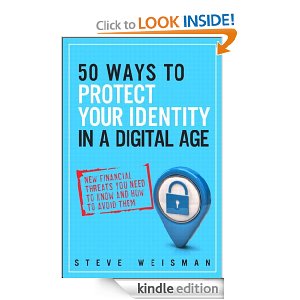 If you're not worried about protecting your Identity and you use a computer, Smartphone, or tablet, you probably should be!  You can get 50 Ways to Protect Your Identity in a Digital Age FREE for Kindle today!
It is better to stop identity theft from happening in the first place than have to fix or repair the situation afterwards. Steve Weisman reveals the threats of new identity theft attacks based on use of Facebook, iPad, iPhone, Android, cloud apps, iPod, and other new technologies — and shows you how to protect yourself, or how to fix the damage if you've already been attacked! Discover why ID theft is more dangerous than ever, and discover today's most dangerous new threats — including attacks targeting medical records, personal finance and online banking sites, the elderly, and military service members. Meet the hackers and organized crime groups who want to steal your identity and money — and learn how to protect your data and your life! Step by step, Weisman shows how to avoid risks, minimize risks you can't completely avoid, and immediately take the right steps if you're ever victimized.
Click here to grab this freebie for yourself–> 50 Ways to Protect Your Identity in a Digital Age FREE for Kindle 
Don't have a Kindle yet?  Get a Kindle Fire for just $159 shipped!  Click here to get yours–> Kindle Fire for $159 shipped
Find more free Kindle downloads here–> 100 Free Kindle downloads
If you have kids, check this out–> Children's Books and Classics FREE for Kindle
If you don't have a Kindle yet, you can still read for free on your PC, Smartphone, or tablet with these free Kindle reading apps here–> FREE Kindle reading apps 
NOTE: This book was free at the time of this posting.  Pricing on Amazon can chance at any time. Please verify final pricing before downloading this item.
See more Amazon deals here–> Amazon deals
*This post may contain affiliate links. Please refer to my disclosure policy for more information