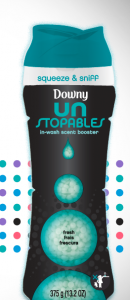 Have you signed up for Vocalpoint yet?  They've got three HOT freebies for members!  Grab them now if you haven't already.
Downy Unstopables in wash scent booster – I'm so excited I got a second chance for this one!  The other day when it appeared I was at the movies with my kids and by the time I got home, it was gone!
Glad ForceFlex OdorShield with Febreze Freshness bags sample here – available while supplies last
Motts for Tots Sample Pack here – Over 40,000 Vocalpoint Members will get free Mott's for Tots samples and coupons!
If you're not a Vocalpoint member yet, it's not too late to sign up and take advantage of this great offer!
If you're not familiar with Vocalpoint, it's an online community with message boards, health and beauty tips, recipes, and more.  One of the "perks" of being a Vocalpoint member is that you get the opportunity to try new products for free and you get a lot of great coupons along the way, too!  The idea is that they send you free samples and coupons and then you share them with your family and friends.
I have been a member for a few years now and I love it because they will send you new products to try out and great coupons for yourself and to share with friends!  They often samples of new Kashi products when they come out along with great coupons.  Some of the other products I've received samples or coupons for include:  Starkist tuna pouches, Bounce dryer bar, Pantene shampoo, and Secret Clinical Strength deodorant.
I hope you're able to get all of the freebies!
*This post may contain affiliate links. Please refer to my disclosure policy for more information