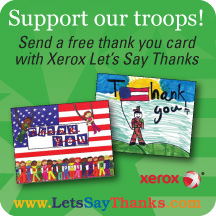 I love finding ways to support our troops and it's even better when there are freebies to support the troops!  Right now, you can send a free "Let's Say Thanks in Support of our Troops" card.
Here's how you can participate:
1.  Select a card here (there are lots of great designs with pictures drawn by kids)
2.  Enter your message, name, and hometown
3.  Hit "send" and they will mail it for free!
This awesome promotion is sponsored by Xerox!
(Thanks Mojo Savings!)
*This post may contain affiliate links. Please refer to my disclosure policy for more information