Growing up, my aunt and uncle lived in San Antonio, and some of my favorite vacation memories are from trips to visit them.  Now that I have kids of my own, this is still one of my favorite vacation destinations!  If you live in San Antonio, but haven't had a chance to see many of the local sights, here are some tips for becoming a tourist in your own city!  If you haven't visited San Antonio yet and live nearby, here are some great ideas for a day trip or longer!
Sea World San Antonio is definitely our top pick for family fun!  We love it so much we get season passes every year! This is where both of my kids rode their first roller coasters, and we never get tired of watching the Shamu show!  For tips on making the most of your trip, check out this post here–> Sea World San Antonio Survival Guide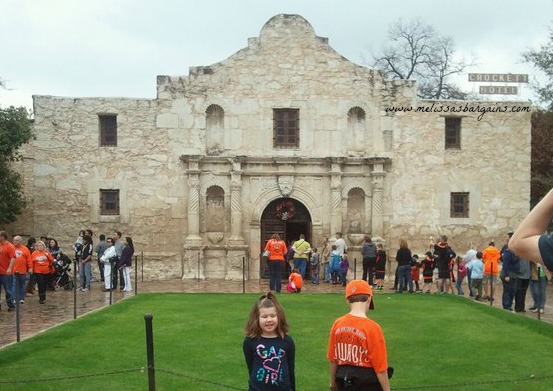 If you're visiting San Antonio for the first time, The Alamo is a must see, but if you're a local, consider taking a tour of some of the other local missions.  I will never forget my first trip to The Alamo, but I also remember being disappointed that so much of it had been recreated and that it really was nothing like the original version.
Give your kids a more authentic historical experience and take them to visit some of the other local missions. My aunt took me on a tour of them when I was about 8 years old, and I loved it!  (of course, I've always been a history buff, too!)  You really do get a feel for how the missions looked when they were originally built and used!
Here are some of the other missions you can visit: admission is FREE!
If you're looking for more historical places to visit, you can also check out the Spanish Governor's Palace!  
Here are some other free family activities to check out:
Brackenridge Park  – Brackenridge Park has plenty of options for free family activities!  They've got playgrounds, biking and walking trails, it's a great place for a picnic, and you can even go fishing!  While you're there, make sure you check out the Japanese Tea Gardens, which are also free to visit!  Adjacent to the park, you'll find the San Antonio Zoo and your kids would LOVE to explore the park aboard the Eagle Train Ride!  Unfortunately the train ride is only free for kids under 3.  It's $3.25 for everyone else.
Geocaching at the San Antonio River Walk  – If you live in San Antonio or you've visited before, chances are you've been to the River Walk.  Experience the River Walk in a new way that your kids will love and do some geocaching!  If you're not familiar with geocaching, it's an outdoor treasure hunt!  You use a GPS and coordinates to locate hidden geocache containers!  Find out what's hidden along the River Walk here–> Geocaching at the San Antonio River Walk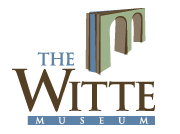 The Witte Museum – As a "history buff" The Witte Museum was another favorite childhood destination!  See dinosaur bones and mummies, learn about Texas ecology and see real log cabins and other historic homes from around San Antonio!  Children under 3 are always free.  Admission is also free for everyone on Tuesdays from 3-8 p.m.
These activities aren't free but are worth checking out, too:
Looking for a fun new way to explore downtown San Antonio?  Check out the Via Historic Steetcars!  Get a one day pass that is good for unlimited rides for just $4!
You can also take a Rio Taxi, which includes 39 stops along the River Walk or  a River Cruise, which includes a 35 minutes guided tour.  A one way ticket on the Rio Taxi is just $5 and a 24 hour pass is $10. Children 5 and under can ride the river cruise for $2.  Adults are $8.25 and Bexar County Residents, senior citizens, and those with a military ID can ride for just $6!
Six Flags Fiesta Texas – San Antonio has not one, but TWO theme parks!  If you're wondering if Six Flags Fiesta Texas is "worth it" if you've got younger kids, we took my kids for the first time when they were 3 and 6 and they had a blast!  My daughter the daredevil rode her first BIG rollercoaster there!  There are lots of kid friendly rides plus your kids will love seeing their favorite Looney Toons characters on display!  If you buy 4 season passes online, you'll pay just $1 more per pass than you would pay for one day admission!  We love going Fright Fest in October and love all of the decorations at Christmas!  Having season passes gives us a great excuse to take a weekend getaway!
Fun Places to Eat
If you've got time for a quick day trip
If you've got time for a quick day trip, here are a few more things my family loves!
Natural Bridge Wildlife Ranch – Enjoy an African Safari Texas style!  This is a drive through wildlife ranch and you can feed zebras, ostriches, and more right from your car!  My kids were too scared to feed the animals the last time we went, but my husband and I loved it, and the kids enjoyed watching us!  Admission is $9 for kids and $17.50 for adults, but it truly is an experience that your children won't forget!
Natural Bridge Caverns  – Pan for gold, take a historic cavern tour, enjoy the zip lines, and check out the world's largest bat flight!  This is a unique experience that won't be forgotten!  There are a variety of tour packages available with prices starting at $11.99 for children 3+ and $19.99 for adults!
NOTE:  There are lots of other great activities to enjoy with your family in San Antonio.  These are just some of my family's favorites!  I was not compensated for this post in any way.  These are all places that I have visited and enjoyed!