If you're going to be eating out this weekend, here's a round up of the best restaurant deals!
Arby's ~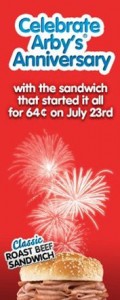 Tomorrow, Arby's is celebrating their anniversary by offering Classic Roast Beef sandwiches for just $.64 with the purchase of a 22 ounce drinking!  Click on the Facebook Friday Arby's page here to print your coupon!
Chili's ~
Our family LOVES Chili's (it's pretty bad when you're on a first name basis with the waiter because you go there so often).  One of our FAVORITE things there is their chips & queso!  I'm so excited about this printable coupon to get Chili's chips & queso for FREE!  I've got mine – did you get yours?? 
McDonald's ~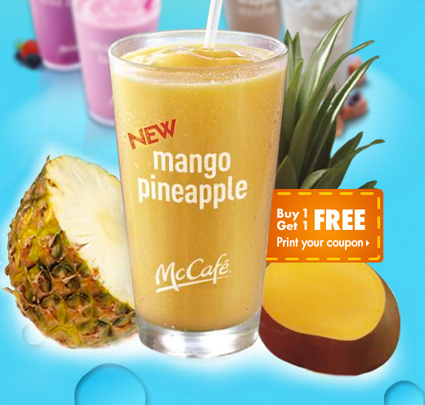 Did you grab your BOGO free McDonald's smoothies printable here? The Pineapple Mango smoothie is YUMMY!
Quizno's ~
Quizno's has four hot new printable coupons here!
Here's what you'll get:
-Free chip or cookie and regular fountain drink with the purchase of a regular salad or regular/large sub
-Free sub or regular salad with the purchase of a sub or salad of equal or greater value and a regular drink
-2 small subs, 2 chips, 2 cookies, and 2 drinks for $9.99 (I think this one is my favorite!)
-$1 off a regular sub/salad or $2 off a large sub
I always love it when I can get deals on eating out!
Ruby Tuesday ~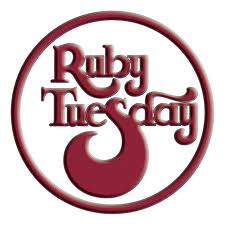 Ruby Tuesday is offering a FREE burger coupon for 200,000 Facebook fans!  Click here for the details on how you can grab your free coupon and HURRY!  I'm guessing this offer won't last long!
Restaurant.com has a HOT promotion right now:  you can save 70%, which means that a $25 gift card will only be $4.50!  This promotion is valid through Sunday, 7/24/11.
Here's how you can take advantage of this great offer:
2.  Enter your zip code to search for restaurants by location.  Choose a certificate and click on the green "Add to Cart" button
OR
You also have the option of purchasing an e-gift card or a regular gift card (which can be mailed to anyone in the US!)
3.  When you add items to your cart, make sure you enter the promotional code "SWEET" in the yellow discount code box at the top of the page.  Complete the check-out process.
DISCLAIMER:  Make sure you read the fine print on the gift certificate options!  They typically have restrictions such as:
-Minimum purchase of X required
-Gratuity added automatically based on pre-discount price
-Valid for dine-in/dinner only
*This post may contain affiliate links. Please refer to my disclosure policy for more information