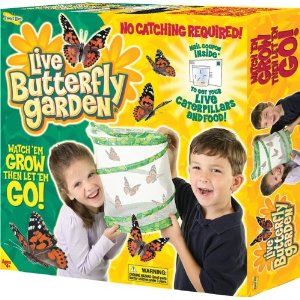 If you haven't bought a Live Butterfly Garden for your kids yet, this is a great deal.  It makes a great classroom project,  a "science project" to check out at home, or a great gift!  Right now, through Groupon you can get a Live Butterfly Garden and the caterpillars for just $10 shipped.  Normally, when you buy this on Amazon or other places, you have to pay an additional fee to get your caterpillars, so this is agreat deal and 50% off what you'd pay at other places!
If you've already got a Live Butterfly Garden, you can get $20 of items from Insect Lore such as live insects, DVDs, games, books, and more for just $10!
There are limited supplies available and this is a HOT deal, so I'm guessing it will go fast!  Grab one here before it's gone!
*This post may contain affiliate links. Please refer to my disclosure policy for more information