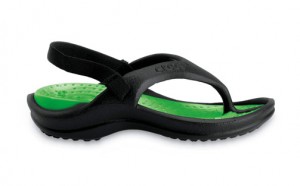 Living in Texas, you can literally wear flip flops about nine months out of the year.  I got my first pair of Crocs flip flops last summer and I absolutely love them!
Right now, Crocs has lots of great Crocs (including flip flops and sandals) on sale for 50% off! I got each of my kids a pair of the Athens ones pictures above for just $9.99 each!
Here's how to make the most of this deal:
1.  Log into your Shop at Home account here – you'll get 8% cash back when you shop through Shop at Home! If you do not have a Shop at Home account yet, you can create one here, and you'll get a $5 bonus.  If you are not familiar with Shop at Home, check out this post here.
2.  Search for "Crocs" on the Shop at Home site, and then click on the blue "Shop Now" button.
3.  When you get to the Crocs site, click on the "outlet" tab at the top of the page! Find the items you want and add them to your cart.
4.  When you are ready to check out, make sure you enter the code fallship, so you'll get free shipping, too!
*This post may contain affiliate links. Please refer to my disclosure policy for more information.