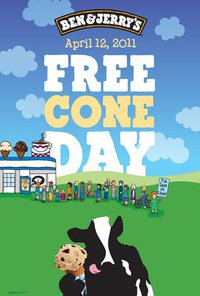 When my husband and I were dating, he always seemed to have a freezer full of Ben & Jerry's pints.  It's his favorite ice cream.  But alas, now that he's married to a cheapskate (does bargainista sound better?), he only gets it when there's a REALLY good sale (and coupons to boot) or if it's a special occasion.  Needless to say, I'm sure he'll be thrilled that tomorrow is free cone day all day at Ben & Jerry's!
Here's the scoop: (no pun intended!)
Get a free Ben & Jerry's cone at participating locations (I recommend calling your store first to make sure they are participating and to confirm hours) from 12 pm-8 pm.
I'm not advocating that anyone get "seconds" but it does say this on their site:  Get in line as many times as you'd like to enjoy a Free Cone!
*This post may contain affiliate links. Please refer to my disclosure policy for more information