Happy Friday "from the road" – hope everyone has had a good week!
Here are some freebies this week:
Allergy Answer ~ Get a free trial of Allergy Answer. Allergy Answer™ is the healthy alternative to allergy medications. All natural Allergy Answer provides short-term allergy symptom relief and long-term allergy control without the side effects of pharmaceuticals. Allergy Answer provides a synergistic mixture of natural ingredients to help control the common symptoms and causes of allergies by inhibiting histamine release and correcting immune system dysfunction. Allergy Answer acts as a natural antihistamine and you can expect relief of allergy symptoms such as sneezing, runny nose, and watery eyes.
Beyond Bodi Heat Wrap ~ I first tried these when they were "free" after ECBs at CVS a year or two ago. They work well (not quite as well as Thermacare in my opinion, but free is free!)
Colgate Child's Toothbrush ~ Get one free Colgate Child's Toothbrush per child's name/postal address.
Country Bob's Steak Sauce ~ Try a free bottle of Country Bob's Steak Sauce (they send you a coupon for a free bottle in the mail)
IKEA ~ Don't forget that kids get a free meal at Ikea through July 5th!
"Milk Matters" coloring book ~ This 14-page coloring book is part of the NICHD Milk Matters campaign, designed to teach parents, children, and health care providers about the importance of calcium for children and teens. The booklet, for children ages four to eight, follows Buddy Brush as he explains why calcium is critical not only to good health, but also to healthy teeth, and outlines how to take good care of teeth. This item is also available through the We Can! program.
Pampers Gifts To Grow Codes ~ (most of these were posted on my Facebook fan page throughout the week, but I'm reposting them here, too in case you missed them!)
15GTGSUMMERFUN (worth 15 points)
25GTGSUMMER2010 (worth 25 points)
ENJOYYOURSUMMER (worth 10 points)
The following are free activities for families/kids this weekend:
Bass Pro ~ Bass Pro is offering a "Family Summer Camp" through July 11th. This Saturday and Sunday (6/26-6/27), they will be offering a free photo, shooting gallery, casting pond, workshops, and shooting range from 12 pm-6 pm. There will be free crafts from 12-2 pm and free S'Mores from 5-6 pm. Some activities are not available at all locations. Call your location for details!
Lakeshore Learning ~ Make a summer fruit basket that's just right for snacking from 11 am-3 pm on Saturday, June 26th (ages 3+)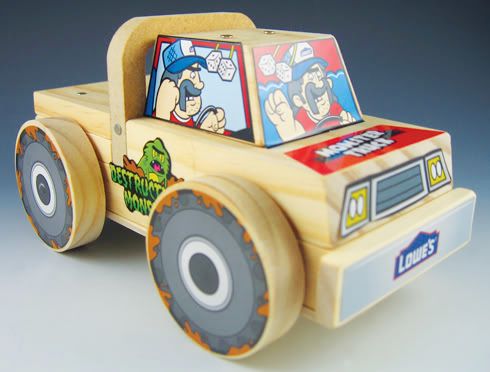 Lowe's Build & Grow Clinic ~Make a free monster truck on Saturday, June 26th from 10-11 a.m. Register for this Build & Grow Clinic here.

Michaels ~Free 4th of July Make it and Take It on Saturday, June 26th from 10 am-2 pm (at participating US locations, while supplies last). At Canada locations, there is also a free family event and you can make a free craft for Canada day!
HAVE A GREAT WEEKEND!!