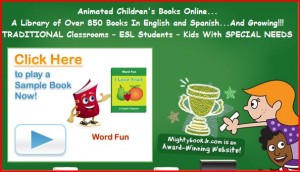 During the summer months, I still like to find ways to keep my kids learning and reading.  Right now, you can get a FREE membership to Mighty Book Jr. when you enter the code learntoread. This is completely free (I didn't have to provide any payment information) and it's a $99 value!
Here's how you can take advantage of this offer:
1.  Click here to access the sign-up page
2.  Choose "Single Household Subscription" and enter learntoread in the upper right hand corner where it says "Enter your code here"
3.  Enter your Name, address, e-mail address, username, and password, and you're ready to go!
You can sort by age groups (they have books available for ages 2-10) and each book comes with a lesson plan, online or printable quiz, and an activity page.  I love it!
Make sure you also check out my "Thrifty Thursday" post from last week about free summer reading programs for kids! Your kids can get free books and more just for reading this summer!
(Thanks Mojo Savings!)
*This post may contain affiliate links. Please refer to my disclosure policy for more information